Making more available storage space doesn't need to take up unnecessary living space in your home. These DIY corner shelf ideas will definitely allow you to make the most out of your vertical space. Each corner shelf idea featured will make you excited for your own living space! All it takes is your creativity and resourcefulness!
 DIY CORNER SHELVES PROJECT – A STEP BY STEP TUTORIAL:
Installing floating shelves is a smart way to save space and display your valuable items while keeping a clean and sleek vibe. Aside from giving your room a minimalist look, this project also makes your living space look more expensive than it actually is. If you want to make this project for your home, here's a complete step-by-step tutorial to guide you.
WHAT YOU WILL NEED:
To start with, here are the materials you will be needing for your project:
6 pieces of 2 by 4 s
2 pieces of 1 by 8 by 12 kiln dried cedar
A piece of 1/4″ by 4" by 8" plywood
 1 1/4 inch wood screws
Sturdy and heavy duty fasteners
Spackle
Paint of your choice
Caulk
Wood glue
You will also need the following tools:
A table saw
A drill
A miter saw
A Kreg pocket hole jig
A sandpaper
A sander
A level
A step ladder
A stud finder
With these materials to hand, you are all set to begin your floating corner shelves!
FIRST STEP – PREPARE YOUR WOOD WITH SPECIFIED MEASUREMENTS
Prepare and cut all of the wood boards you need for your corner shelves, cutting all of the wood materials according to the specified measurements. Just imagine that these pieces of wood are pieces of a big jigsaw puzzle, which need to fit together properly to create the big picture.
Pictured above is the diagram for each of the wood boards you need to use. By seeing how these pieces of wood work together, you will get a great visualization of how your project will turn out.
Here are the specified wood measurements for the three shelves you will install.
15 pieces of 6 1/2″ by 3 1/2″
3 pieces of 26 1/2″ by 1 1/2″
3 pieces of 46″ by 1 1/2″
3 pieces of 28″ by 8 5/8″
3 pieces of 20″ by 1 1/2″
3 pieces of 37 3/8″ by 8 5/8″
3 pieces of 37 3/8″ by 1/5″
A 2″ by 4″
A ripped 2″ by 4″
A ripped 1″ by 8″
For the bottom and the ends, here is the cut list specification:
8 5/8″ by 46″
8 5/8″ by 26 1/2″
6 pieces of 2 1/8″ by 8 5/8″
-six 2 1/8″ x 8 5/8″
After preparing the wood and cutting it according to its specified measurements, use sand paper to smooth the surface.
Pictured above are the already-sanded pieces of wood you need for your DIY corner shelves.
SECOND STEP – ASSEMBLE DIAGRAM A

For the next step, arrange your wood to resemble the first diagram, diagram A. When assembling the first diagram, clamp down the 1 1/2″ piece of wood then screw in the 6 1/2″ by 3 1/2″ pieces of wood. Use two screws per piece of wood for maximum security.
THIRD STEP – ASSEMBLE THE SECOND DIAGRAM
For the third step, simply arrange the pieces of wood to resemble the second diagram, diagram B.
FOURTH STEP – SET YOUR SHELVES UP!
Plan and visualize the spacing of your shelves. One way to do this is by using painter's tape. Use the painter's tape in place of the shelves to see if the spacing and length is good enough for you.
Once you are satisfied with the spacing that you have arranged, you can start building your corner shelves.
Starting from the bottom to the top, install the first diagram, ensuring that the wood is installed properly and securely using sturdy wood fasteners. Afterwards, install diagram B. It is up to you whether you screw the wood or nail it to the wall.
Don't forget to use screws or nail the underside and end wood pieces.
FIFTH STEP – POLISH YOUR CORNER SHELVES!
Give your DIY corner shelves a polished look by sealing the spaces in between the shelves and the wall. Afterwards, sand your wood pieces, using a vacuum hose to reduce the production of dust.
SIXTH STEP – PAINT YOUR CORNER SHELVES!
Give your corner shelves a coat of color, using painter's tape around the corner shelves to save the walls from splashes of paint.
Once the paint has dried, peel the painter's tape off.
FINAL STEP – PUT YOUR DISPLAYS UP ON YOUR DIY CORNER SHELVES!
After the paint has dried and you've taken off the painter's tape, you can now put your items up on display!
Anyone who sets eyes on your DIY corner shelves won't be able to help themselves!
 HERE ARE 5 INSPIRING DIY CORNER SHELVES:
Loved the tutorial? Here are five other DIY corner shelves to help you achieve the perfect storage your home deserves!
1 – Transform your useless wall corner with these DIY Corner shelves!
There are a lot spaces in your home which often go to waste because they aren't used to their maximum potential – like the wall corners. Sounds ridiculous? All you need to make use of your wall corners is corner shelves!
Source: Tronk Design
See how simple corner shelves can give you access to additional storage space? You cannot deny how this corner shelve accentuates the oft-ignored corner wall. This shelf is perfect for storing your ceramics, or your bathroom essentials! It's one versatile storage space that only needs your corner!
2 – Keep it simple and classy with these Skinny Corner Shelves
Who ever said that wall ledges can only be used to display art and show pictures of yourself in a frame?!Skinny DIY corner shelves or wall ledges are perfect for storing everyday necessities to access daily without using a lot of wall space.
Source: singularconsole.com
Here is an example of a wall ledge holding a lamp just within reach of the bed, making the skinny DIY corner shelves an elegant bedroom end table! They are perfect for channeling the minimalist in you!
3 – Have more space at home  with this Staircase Storage
Staircase storage is one of the most popular storage for homes with limited space. After all, staircases offer a lot of storage spaces by creating room for your stuff without having to sacrifice additional floor or wall spaces, making it one of the best storage spaces for every home! 
Source: S.Zajaczkowski
Staircase storage has a lot of potential for giving more space at home. In this example, the staircase has been transformed into a smart storage. The double duty steps functions as a built-in shelves storage and as well as dresser-like drawers. With this staircase storage, you will be able to store more of items without compromising your living space.
4 – Opt for flexible storage space, go for Pegboard shelving system!
Do you simply love to rearrange how your house looks from time to time? Well if you are, I am sure you will fall in love with these Pegboard-system DIY corner shelves! Gone are days that pegboard shelving systems when were only found in garages and workshops. Nowadays, many people are opting for this smart, practical and flexible shelving idea!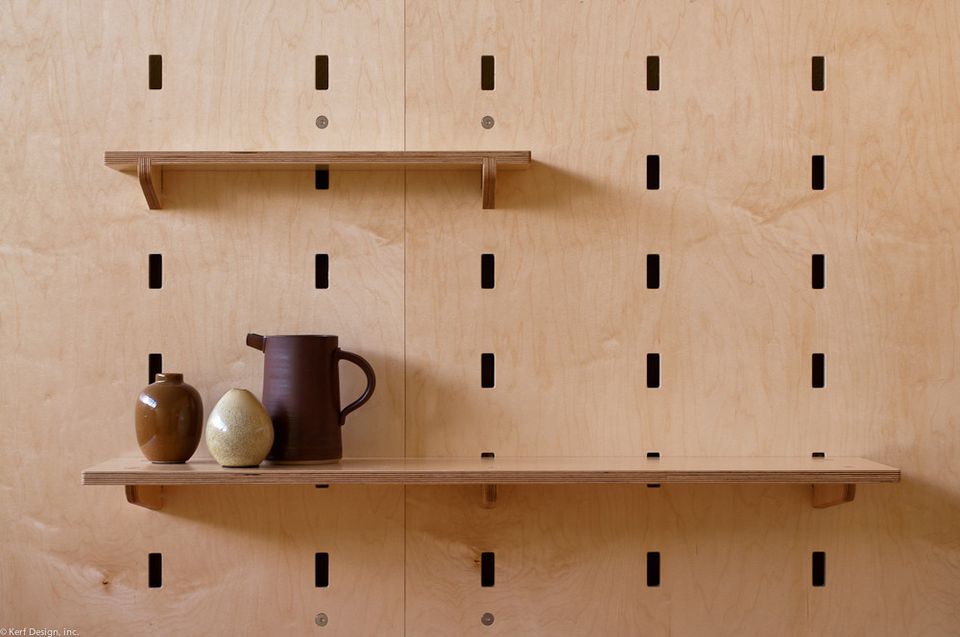 Skeptical? See how this pegboard shelving system offers a smart and flexible storage idea! For dayswhen you have few items to store, simply install one or two wood shelves. The length of the shelves can also be adjusted anytime you want, allowing you to have the right amount of space for your household items.
5 – Create space with a wall mounted shelf!
Wise men often say that "when there is a will there is a way." The same principle applies to creating DIY corner shelves. There is one simple way of creating more storage space for your stuff, without needing to occupy too much space: simply install and mount a shelf on your wall!  This creates instant storage space for your needs, whenever you want it!
Source: Ikea
 This wall-mounted table creates temporary storage space whenever you need it. What makes it better is that, if not in use, you can simply just fold it down. Its trim ledge can be used to store small items which definitely makes it a home must-have!
In a world where making the most out of your house is more a necessity than a want, I know these six DIY corner shelves have definitely inspired you! What makes this even more helpful is that you now have five useful tips to apply, giving you all the living space you need!
Video Tutorial – DIY Corner Shelves: